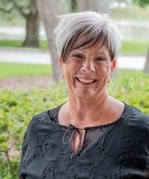 (352) 901-9100
26736 US-27, Suite 103
Leesburg FL, 34748
Receive Email Alerts from Me
When I began my real estate career, most were leaving the business.  Interest rates were at 17% (yes we still sold homes).  I walked into the local brokerage office in Davenport, Iowa and said to the broker "I want to sell real estate".  He looked at me and then gestured to all the empty desks circling the office.  Miss, he said, look around, everyone is leaving the business it's so bad, no one is coming in.  Then and there I challenged myself to learn the business and be the best that I could be in serving the public's real estate needs.
From there "it's history" as they say.  Years spent helping families moving in and out of communities. Pretty soon I found myself selling real estate to the children of my clients.  (One of the highest compliments one can receive as a real estate agent is a referral from a satisfied and happy customer, but selling to a child of a client is the best!)
Life took it's twist and turns. Married to a successful business man, we relocated several times for his company. New states: Wisconsin, Arizona, North Carolina.  Each new location, I would start again, building on my experience and skill set to chase my passion of real estate. I worked relocation, new construction, finance, management of real estate. I worked for top real estate companies, Remax, Coldwell Banker, Realty Executives. I would receive reward after reward, satisfying my relentless desire to be the best. 
Now I am living the dream here in Central Florida.  Many come here to retire, some come to enjoy a new way of life.  I came to "Make your retirement dreams come true."
Specializing in the ACTIVE ADULT communities in the Central Florida, mainly Clermont, Leesburg, Villages locations, I can guide you through the maze of, "Where do I want to retire?" Put my experience, skills and knowledge to work for you to make your retirement dreams come true.
Testimonials
Mrs. Diane Reeves - August 2017?
Thank you for all your efforts in selling our Mom and Dad's home. They loved their time in this home and community. I am sure the new homeowners will be quite happy there as well. Wishing you many new homes sales in the future. You did a wonderful job and we appreciate the many things you did for us to make it easier on us. Warm Regards!
Do you have great things to say about Sandy? 
We'd love to have your testimonial!
2
Beds
2
Baths
1,518
SqFt