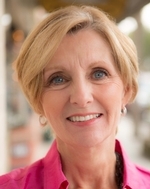 (352) 978-5856
875 W. Osceola St.
Clermont FL, 34711
Receive Email Alerts from Me
Ann has dedicated her career to helping individuals facing transition. During her corporate life, as a Senior Vice President of an international consulting firm, her primary role was helping companies and individuals navigate the often-stressful path of transition. Later, when the entrepreneurial bug gave her a nudge, she created her own coaching firm, specializing in major life and relationship transition.
Her expertise with relocation and change is extensive, having personally experienced many major relocations, both local and long-distance. "I always said I'd be a great relocation consultant. I understand how overwhelming and stressful it can be. But, it also can be a fun adventure!", she says. Currently, Ann brings her expertise in transition and relocation to her clients in the real estate market. Her philosophy is, real estate is not just about buying or selling a house. For her, working in real estate is about helping her clients achieve their goals in the most stress-free way. She does this by listening to their needs, understanding their challenges, and working with them every step of the way to accomplish their dream.
In her personal time, Ann enjoys reading, sewing, crochet, yoga and everything outdoors. Having lived in Central Florida for over three decades, Ann and her husband Steve recently moved to a beautiful 55+ community. They both agree - they should have done it sooner!